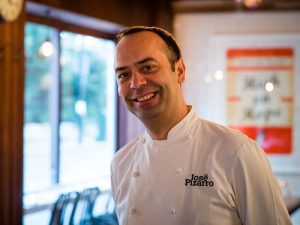 Jerte Picota Cherries have teamed up with José Pizarro, one of the top Spanish chefs, to help promote Picotas as the fruit to enjoy this summer.
From 3rd July to 9th July, José Pizarro will host a Jerte Picota Cherry Week at José Tapas, Pizarro Restaurant, José Pizarro Broadgate and Little Jos. Fans of the sweet and juicy Picota can enjoy a delicious Jerte Picota Cherry Soup, which will be featured on the menus. There will also be bowls of Jerte Picota Cherries available as an aperitivo.
Head down to any of José Pizarro's restaurants to see the special and unique Jerte Picota Cherries in action. Be sure to share a photo of your dish using #JertePicota.
For more information about Jos Pizarro and his restaurants, please visit josepizarro.com