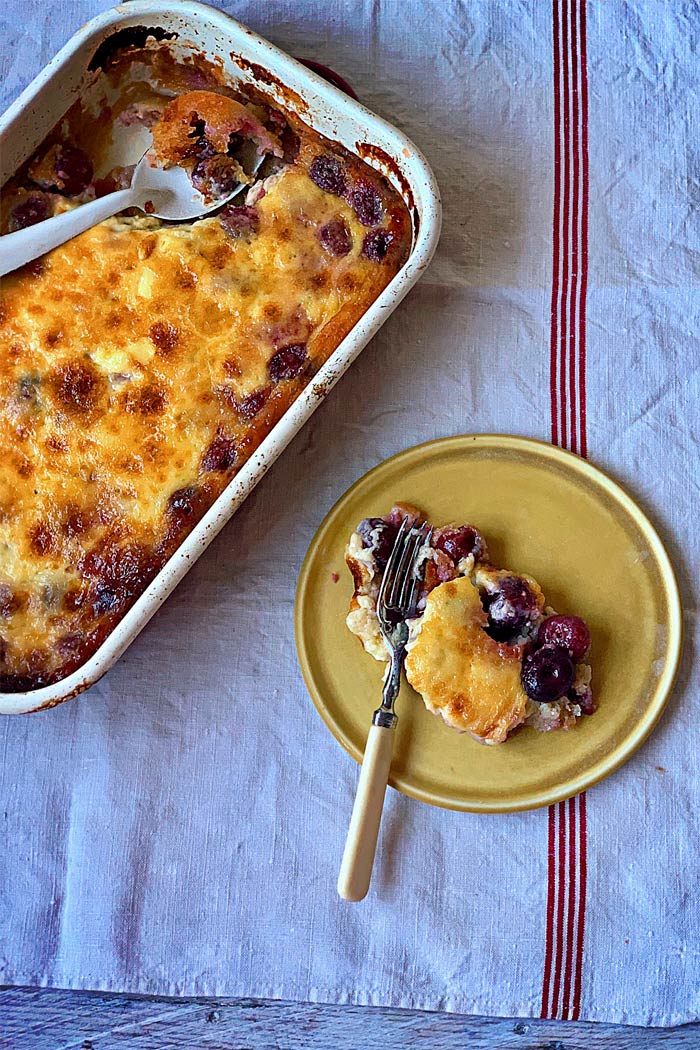 Ingredientes / Ingredients
"Here is an easy recipe where you don't have to pit the cherries as they add to the flavour and stop the cherries from 'bleeding' too much into the batter. But do warn your guests about the pits!
A clafoutis is a traditional French recipe, can be served as a dessert or as a tea time treat. It's possibly even nicer the next day, I've had it for breakfast." – Kerstin Rodgers*
Serves 8
Ingredients
150g Spanish Picota cherries, washed
20g butter for greasing
4 eggs
150g caster sugar
50g plain flour
600ml double cream
1 tsp vanilla essence or paste
Cup cherry brandy
Method
1 Preheat the oven to 180cº
2 Butter the baking dish/tray
3 Spread the cherries in the dish
4 Whisk the eggs then add the sugar. Slowly sift in the flour, while stirring, then add the cream, whisking thoroughly.
5 Add the vanilla paste
6 Pour the batter over the cherries.
7 Bake in the oven for 30 minutes or until set. Can be served hot or cold.
Top tips: Brush the top of the pudding with cherry brandy for added naughtiness. Can be accompanied with cherry brandy for sipping.
*Recipe created by Kerstin Rodgers Ms Marmite Lover