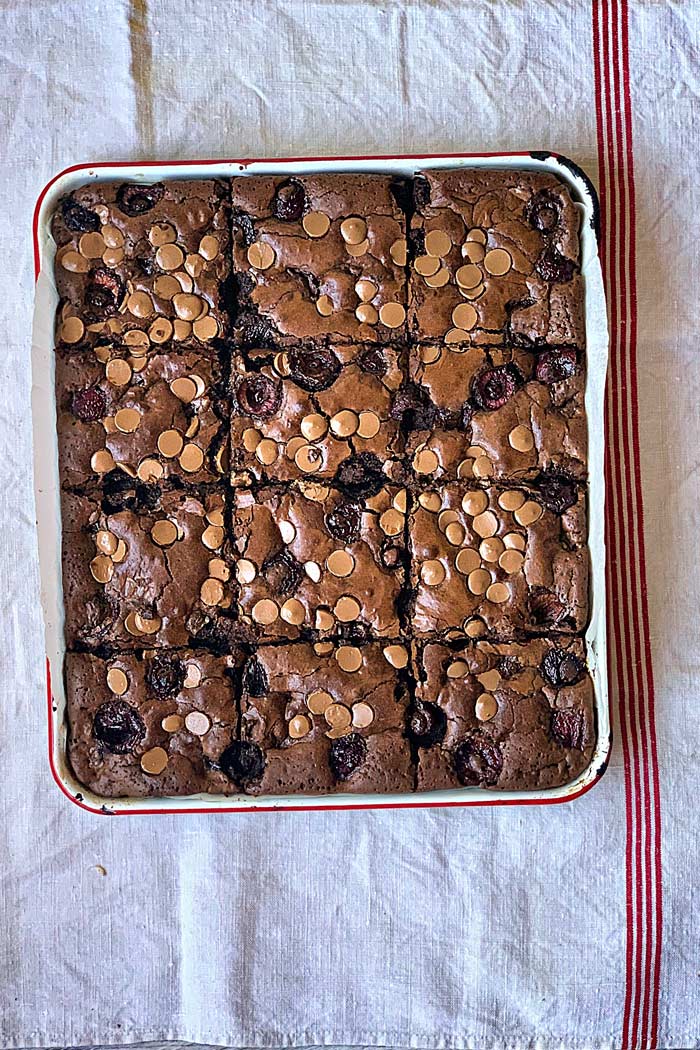 Ingredientes / Ingredients
"These are so rich and moist, more like a dessert than a cake." – Kerstin Rodgers*
Serves 12
Ingredients
300g Spanish Picota cherries, pitted and sliced in half
200g of good quality dark chocolate, 70%
cocoa or more
200g milk chocolate, in chip form or broken up
150g unsalted butter
50g chocolate powder
100g self-rising flour
200g light brown soft sugar
Pinch of ground nutmeg
3 eggs
Vanilla essence/paste
Method
1 Preheat oven to 170-180C and line a cake tin with baking parchment.
2 Break up the dark chocolate and half the milk chocolate, into rough chunks and cut the butter into pieces.
3 Place the butter into a bowl and add the dark and milk chocolate chunks and bain-marie it all, mixing until it's uniform. Take the bowl off the heat and leave it to cool.
4 Chop the remaining milk chocolate into small chunks (if not using chips) and set aside.
5 Sieve the chocolate powder, flour, nutmeg into a bowl and set aside.
6 Cream together the eggs, sugar and a few drops of vanilla essence until light and fluffy using an electric mixer. This will take a while, the resulting mixture should be thick and nearly twice the volume of what you started with.
7 Fold in the butter, chocolate mixture gently to avoid losing the air you've creamed in.
8 Fold in the flour, chocolate powder, nutmeg and most of the Spanish Picota cherries bit by bit. Mix until uniform.
9 Pour into the tin and sprinkle the chips and remaining cherries on top.
10 Place in the oven and cook for 30-40 minutes. The centre of the brownie should no longer wobble when you gently shake the cake tin. If it does, it needs a few more minutes. Cool for about 20 minutes. Then cut into squares.
*Recipe created by Kerstin Rodgers Ms Marmite Lover